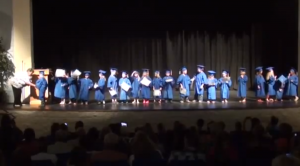 An overflow crowd of more than two dozen excited diminutive students and their proud family members filled the Mill Room located in The Factory in Wake Forest NC Thursday June 25, for graduation/moving up festivities.
Our Children's House teacher Mrs. Amanda, one of four instructors currently at the school, said 18 preschool students were graduating to kindergarten level and another 11 students were moving up a level Thursday.
Wake Forest Montessori school employs "a non-traditional approach to education — with no tests, or grades per se, and less distinction between grade levels," one parent said in an email. "We are the only licensed preschool in the Wake Forest area that offers this tailored approach to education."
Darlene Younger, Mother of two children stepping up said, "We've been with this school since the beginning." "We looked at every preschool in the county and fell in love with this one. It's the only one that focuses on the whole child and values independence — that's important to us."
Younger said her family has decided to stay with Montessori as the children grow.
"We looked at nearly every kindergarten, too, and we're staying here," she said. "We don't want to move them and they're so free here, and learning a lot."
Kendall Tucker, who is graduating into kindergarten, said she's happy to be staying, "so, I can be with my friends."
A sea of little graduates in blue miniature caps and gowns fidgeted or sat stoically on stage during the program, which included songs by some of the students, performed amidst the flashing of cameras.