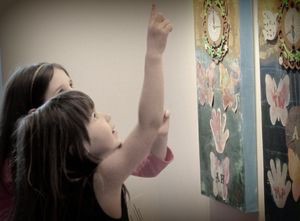 MADISON – In a unique program, small hands made a big difference in their school's student scholarship fund this spring.
For the 17th year, young artists raised scholarship money for fellow students at the Madison Montessori School, located in the Presbyterian Church of Madison at 19 Green Ave.
How? Preschool and kindergarten students worked with professional artists to create "Genuine Art," a program that culminates in a fund-raising Silent Auction with a "Children's Open House" for the young artists and their families each spring.
This year's art show, "Morning, Noon and Night," was on display for public viewing from March 31 to April 7 at the Nicholas F. Rizzo Art Gallery at 32 Watchung Ave. in Chatham — raising more than $20,000.
The artistic imaginings of what "time looks like," and how time transforms a landscape, were created with metal, wood, beads, photos, stamps and watercolor.
Read full article here: http://m.newjerseyhills.com/madison_eagle/news/young-artists-raise-scholarship-funds-for-madison-montessori-school/article_5c603dd3-ecc1-5222-bc85-8b28be9be4b2.html?mode=jqm