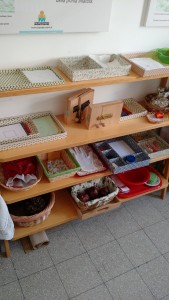 Blossom Montessori School for the Deaf, located in Clearwater, FL, is one of a handful of schools in the U.S. using Montessori methods to teach deaf and hard-of-hearing children using both spoken English and American Sign Language. Blossom was selected as the grand prize winner of Tech-it-Up for best demonstrating how the school would integrate Sharp technology such as interactive whiteboards, professional display monitors and document systems (multifunctional copiers) to address student needs and create a more engaging learning experience.
"Winning Tech-it-Up is truly a dream come true, as it represents everything we've always wanted for our students," said Lisa Wilson, Director of Development, Blossom Montessori School for the Deaf. "Our students are truly visual learners and Sharp's technology will open up our students to a whole new way of learning that will change their lives forever. It's hard not to get emotional when you think about how Sharp is making our students' dreams comes true."
The response to Tech-it-Up – The Sharp Classroom Technology Challenge was overwhelming. Beating a field of over 500 accredited K-12 schools throughout the country, Blossom Montessori School for the Deaf received top marks for their winning entry. For Blossom, tight budgets have made technology upgrades seem impossible; yet their compelling story of how an under-served student population who could gain the most from technology yielded a grand prize of $100,000 worth of state-of-the-art Sharp branded products.
"After a panel of judges had reviewed Blossom's written submission, they knew they had found a grand prize winner," said Doug Albregts, President of SIICA. "Blossom's touching entry demonstrated the absolute need for interactive technology in the classroom. Sharp is proud to provide Blossom the classroom technology that will create a unique and meaningful learning experience for their students, not only enhancing the way they learn, but truly making a difference in their lives."
Read the full article here: http://www.prnewswire.com/news-releases/blossom-montessori-school-for-the-deaf-announced-as-the-grand-prize-winner-of-tech-it-up—the-sharp-classroom-technology-challenge-300097866.html